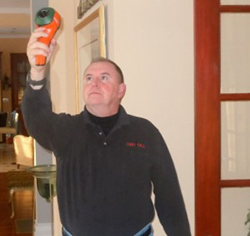 Our Family Mission: We turn an overwhelming event into a positive experience with compassion, professionalism and knowledge.
First Call Restoration is a family owned and operated business. It all began a couple of decades ago when Mike (the owner) started out cleaning carpet on weekends. Out came the cleaning machine from the back of his car. A couple of years later it was a full time business built on referrals with a new truck mounted system.
How did we grow so fast? Easy, outstanding customer service and skilled carpet cleaning. As time went by our son joined his dad, and well, family and friends eventually joined the company too.
While the technicians were busy cleaning carpets Mike took class after class learning and becoming certified in everything he could regarding water damage, mold remediation, fire/smoke damage, sewage clean-up and bio hazard clean-up. Mike is now a Council Certified Mold Hygienist. He works with all our Lead Technicians (who are also certified) and oversees every job.
We are now an emergency service company available 24hrs/7 days a week. First Call Restoration specializes in water damage/flooding, mold remediation, fire/smoke damage, sewage clean-up and death /crime scene clean-up. Our capabilities range from residential homes to multi- level commercial/industrial buildings.
We believe customer service is the most important aspect of any business, that's why we give a 100% Satisfaction Guarantee. We have the experience, and knowledge to get the job done right the first time. Thanks for reading our story.
With one call we'll take care of it all!
Call Mike today at 845-226-0868