First Call Restoration will safely and effectively remove the Bio Hazardous substances (sewage) and dispose of them. We have the technology and equipment to clean and sanitize your home or office back into a healthy and safe environment for your family or staff.
"One Call and We Take Care of it ALL"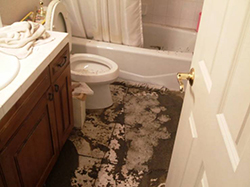 We work with ALL Insurance Companies
Available 24hrs/7 days
CALL 845-226-0868
Health and Safety Are The First Priority
Individuals with compromised immune systems should be evacuated from the structure until it has been judged safe for occupancy, (e.g. the very young, the elderly, those who have undergone recent surgery or chemotherapy and those whose immune systems are suppressed.
The next step: various cleaning and decontamination procedures must be used, including the removal of all highly porous materials (e.g. carpets, underlay (pad, cushion), wall board, insulation, hard wood floors) affected.
All other surfaces that can be restored must be thoroughly cleaned and sanitized.
These are some of the disease causing organisms in Sewage