Water removal is not nearly as simple as it sounds, and it is so very important to the rest of the process. Trust our emergency restoration services to get your home or office dried out in a hurry! One call and we take care of it all.
Water removal specialists
Top notch restoration service
(845) 226-0868
Water Removal Services
This is the kind of thing a home or business owner hopes and dreams never happens to them. Now you need a restoration service to handle the water removal in a hurry. This is a tough time, but if you contact the right cleanup service, it does not have to be an absolute nightmare. We will handle your water removal issues and get you dried out quickly. Time is of the essence, so contact our office as soon as you notice any standing water.
If it were as simple as just pumping the water out, you would not need a water damage restoration company. Water removal is a little more complex than that. If you don't dry the structure properly you can have "secondary damage" mold. That's why we use thermal imaging to help to help us detect areas of hidden water/moisture. We also use moisture meters to detect wet/damp areas as well. It's the hidden moisture that can lead to mold. Time is of the essence, the longer the water sits, the more damage it does to your furniture and valuables. Call us and we will get it done right the first time. Big fans and dehumidifiers are of course part of the process. Our water damage company's special heat systems that pump air in are state of the art. After that, we break out our thermal imaging camera to find water that is hiding in the tricky spots. These are the nuances of water removal that make the difference in the end. Remember, no further work can be done until this is completed. As importantly, no work can get done right unless this is done right. Call the best restoration company in the business so we can get it done right!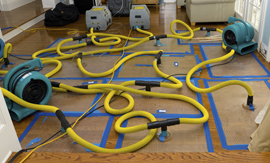 Water Extraction Company
It does not matter how much water removal you need, we are ready to help. Do not panic. Our experts have been handling water extraction for homes and offices for years. We are standing by around the clock to come to your aid. Whether you have standing water, or a pipe break, call us to handle your water extraction before more damage occurs. Time is of the essence when dealing with water removal, because the longer the water sits, the worse things get. Do not wait another minute!
Restoration service is not something to take a chance on. Make sure you are getting the best in the business to handle your home or store. The very first thing that needs to happen is water removal, and it needs to happen fast. There is also no room for error: ever last bit of hiding water needs to be out, and that is why you need us. Get it done right. Finding standing water is a giant headache, now let us help you solve the problem without the hassle!
Salvage your home and furnishings
Contact our damage restoration company
(845) 226-0868